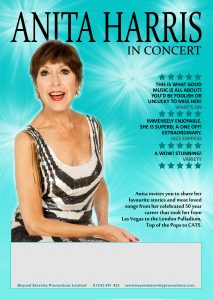 Anita Harris has had a breathtaking career spanning over fifty years which started when as a 15 year old she was spotted on a London ice rink. She was then whisked away to Las Vegas to appear, three times a night in a top revue.
Returning to the U.K. she went on to work with The Cliff Adams Singers, appear in two Carry On films, grace the top of the pop charts, become a pantomime legend as Peter Pan, star in Cats in the West End for 2 years and feature in 7 Royal Command Performances.
She has never stopped performing and has worked alongside legendary names in the world of entertainment such as Harry Secombe, Phil Silvers, Morecambe and Wise, Tommy Cooper, magician David Nixon, Sid James, Kenneth Williams and Clive Dunn.
I am proud to be working with this legendary entertainer as musical director and pianist of her touring show Anita Harris in Concert – a wonderful cocktail of song, glitz, chat and humour. In the show she performs the songs that have made her into one of the country's best loved stars including Memory, Just Loving You, Anniversary Waltz, Dream A Little Dream of Me, All That Jazz and Route 66 amongst many others.
In 2015 Anita and I worked together on her 'Double A' single release
In My Life/Rockin Good Way.
Visit Anita's website: www.anita-harris.com