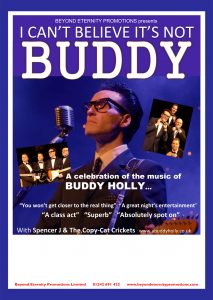 I am delighted to be a part of this fabulous show which brings Buddy Holly & The Crickets back to life as they looked and sounded in 1958 when they first toured the UK.
Top Buddy Holly tribute Spencer J takes the lead role and he is backed by the amazingly talented musicians Spencer J, JJ King, Gerry Slattery and Spencer Lingwood (plus myself) as the Copy-Cat Crickets.
Song choices are based on actual set lists from Buddy Holly's late-fifties performances. As well as legendary hits like 'Peggy Sue', 'That'll Be The Day', 'Oh Boy' and 'Heartbeat', dozens of other gems from his catalogue of over 100 recordings are also featured, as well as hits by the other Kings of Rock 'n' Roll, all of which Buddy actually performed at live shows ('La Bamba', 'Blue Suede Shoes', 'Rip It Up', 'Shake Rattle & Roll'.)
In terms of energy, originality and ability to connect with an audience, Buddy, Jerry, Niki & Joe B, the original Crickets, had few equals, beyond Elvis.
This is a brilliant show that I thoroughly recommend!