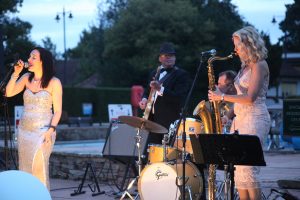 My swing band is an excuse to play the type of jazz, swing and boogie that I love – standards that were made famous by the likes of Sinatra, Dean Martin, Ella Fitzgerald, Nina Simone and more recently Eva Cassidy and Peter Cincotti. Songs written by those supreme composers and lyricists such as Cole Porter, George and Ira Gershwin, Irving Berlin, Jerome Kern, Richard Rodgers and Lorenz Hart.
The personnel of my swing band is not fixed as I am blessed with a multitude of talented musician friends who I can call upon at any time.
Familiar faces in the band are Graeme Budd (saxophone), Wendy Abrahams (vocals), Gilly Lodge (saxophone), Mike Croshaw (guitar), Bryn Thomas (guitar), J J King (bass), Luke Dodds (bass), Jimmy Lee (drums) and Steve Laffy (drums).
In the summer we perform a number of Swinging Summer Evenings and during December – Swinging Christmas Evenings, which are always very popular and great fun for us.

'The Peter Gill Swing Band really brought the spirit of Christmas to the centre on 11th December with their beautiful swing classics. Both tenants and shoppers felt it was a wonderful experience and we once again thank you for a superb night of entertainment.'
Apero Events
'The Peter Gill Jazz Trio wowed dozens on Saturday with a series of lively upbeat tracks performed from the Montpellier bandstand.'
The Gloucestershire Echo