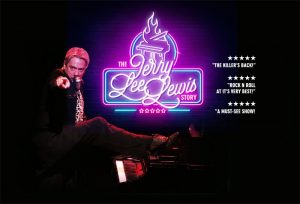 Jerry Lee Lewis was undoubtedly the first wild man of rock and today he is the Last Man Standing of the great rock 'n' roll icons of the 1950s.
This exhilarating and fast paced show tells the story of the star's meteoric rise to stardom and his equally fast fall from grace before regaining his crown as the most exciting live performer the world has ever witnessed.
I am supported on stage by a live band and cast and am thrilled that we are back in theatres across the country in 2018/2019 in a revamped and even better format than when it last toured in 2015. More than 20 rock 'n' roll and country hits punctuate the narrative such as 'Great Balls of Fire', 'Whole Lotta Shakin', 'Wild One', 'Roll Over Beethoven', 'Johnny B Goode', 'Jailhouse Rock', 'Be Bop A Lula', 'Chantilly Lace', High School Confidential', 'Your Cheatin Heart', 'Mean Woman Blues', 'Good Golly Miss Molly' and 'Don't Be Cruel'.
Great job Peter!
Jerry Lee Lewis jr
Superb. You and your excellent band tell the Killer's story with precision, compassion, wit and musical energy. Attendance should be compulsory.
P.J.Q. Diss, Norfolk.
I've seen Jerry Lee live twice and I've been a fan all my adult life. I thought your interpretation was absolutely stunning. You are clearly a brilliant musician, and have got The Killer off to a tee!
P. M. Fakenham Norfolk.
You were absolutely FANTASTIC at the Medina Theatre. Thank you very much for a most enjoyable evening.
R. A. Isle of Wight
I was hoping it would be a good show – it wasn't – it was brilliant!
P.S. Chesterfield
Great Show!
The Maddermarket Theatre