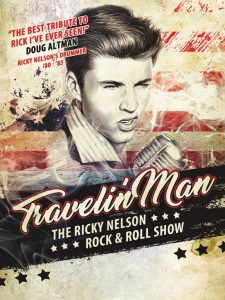 I was thrilled to be asked to join Dave B's terrific tribute to Ricky Nelson. 'Travelin Man' is a treat for all Ricky Nelson fans as Dave performs all the great hits such as 'Hello Mary Lou', 'Stood Up', 'It's Late', 'Fools Rush In', 'I'm Walkin", 'Garden Party' and many, many more.
I perform keyboards in the band which includes Eddie McManus on bass – Eddie was Gene Vincent's bass player when Gene toured the U.K.
If you love rock 'n' roll look out for this show – it's a real treat and Dave a great performer.
Check out the Facebook page for the show by clicking here.